At 33 Talent, we've created an award-winning recruitment product that offers clients substantial cost savings for an embedded model of Recruitment and end-to-end HR strategy. We deliver our expertise to exciting companies globally - here's an example of how one business started using
Subscription
to build their employer brand, get the word out to potential clients, and hire high-quality applicants to join their digital transformation mission.
​
The Challenge:
Our client is a startup in the digital and managed service space, operating as a network of global consultants with headquarters in Singapore. Being at a critical stage of their development, they required marketing resources to build their brand and make a 'splash' in both client and candidate attraction. A successful strategy required someone with a range of marketing and people skills, who would be able to deliver the plan seamlessly within our client's agile environment.
The Ask:
Refine brand messaging, establishing a relevant presence on LinkedIn, Google, and other key networking organisations

Employer branding services to attract candidates and build recruitment processes for a larger Associate pool
The Solution:
Subscription was the perfect fit for our client - with a plan revolved around recruitment marketing, they'd have access to a team of professionals with specialisations in recruitment, employer branding, and employee engagement (plus all the tools and network on-hand). We agreed on a 16-month contract to really take their brand to the next level and embed our team comprehensively into the company structure, taking ownership of agreed projects and effectively implementing them beyond the consulting hours.
Our specialists focussed on updating and managing multiple digital channels, including driving pre-funnel engagement and managing 'people' tasks as our client located their new headquarters and planned employee activities.
The Results: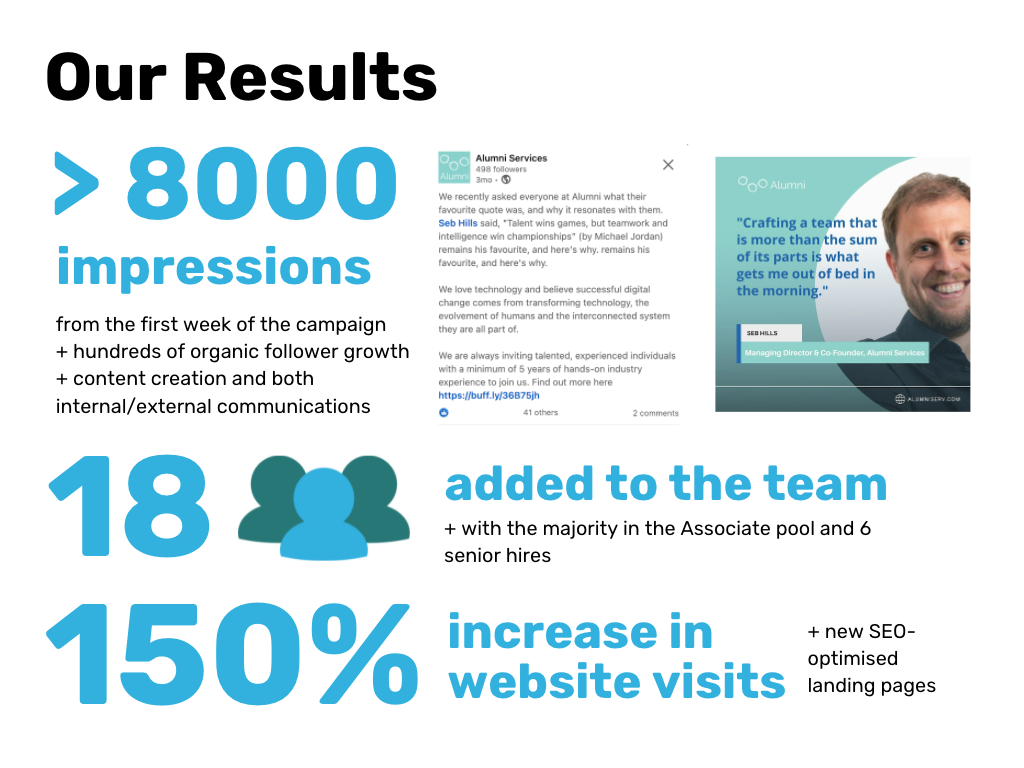 If you don't believe us, here's what the Managing Director and Founder had to say about our services:
When we launched the business, we were looking for help with our brand positioning and recruitment marketing but were not in a position to hire a full-time resource. 33 Talent's Subscription product was a

great fit

for our requirements - the ability to tap on to an expert team to work with on refining our pitch, online offering, and attracting passive talent.

Over the engagement, we started and grew our LinkedIn company page, built out our website, launched a blog and held a worldwide company offsite all with their help.
Our Subscription solution isn't a 'one and done' service, but an investment for a fully integrated and genuine partnership. Besides offering recruitment marketing modules to make your hiring easier and get the right people to come to you, we specialise in helping you hire the best from the Digital, Data, and PR industries for at least 63% of savings.
How do I get started with Recruitment Marketing? Read our Beginner's Guide, or get in touch with Jo directly.
​