According to LinkedIn, a strong employer brand can reduce turnover by 28%, double the number of qualified applicants, and decrease cost per hire.
In this article,
Jo Cockle
outlines the importance of employer branding and how recruitment marketing can transform your hiring strategy.
What is an Employer Brand?
Regardless of what industry you're in, all successful companies revolve around meeting human needs. Business plans are powered by being able to recruit and retain top talent, and as the reputation of your product and service, the way you communicate your company's voice, message, culture, and strategy will help set you apart from competitors when recruiting. Not to mention, a strong employer brand can engage existing employees to transform them into loyal, advocating team members. When thinking about branding for a business, it can be easy to get stuck on the logo, fonts, or brand colours. While all of this is important (and can be referred to in your brand guidelines), a strategic employer brand is a critical component that should be explored from day one - especially in an age of remote working.
Reputation can save you money
Life is all about first impressions. How many posts have you seen on LinkedIn where someone's celebrating their first day at work with a picture of a flushed out 'welcome pack' or thanking those that have supported their smooth onboarding? In Singapore alone, 79% of Singaporeans are active social media users, so being exposed to a robust employer brand that they can access anytime unleashes a handful of new recruitment channels.
When you're looking to hire, you have to think about what you're offering future employees versus a close competitor. The tech talent demand in Singapore far outweighs the supply, and most 'unicorn' candidates will have the luxury to choose between multiple amazing opportunities. You might assume they'd go for the job with the highest salary offer, but research suggests 67% of candidates would accept a lower salary if the employer made a positive impression online.
It's more than just an 'About Us' on your company page or posts about the office perks. Especially in 2021, candidates are valuing employers that demonstrate trust, authenticity, and empathy. A powerful recruitment marketing strategy isn't about polished photo-ops, but compelling stories about why working there is the most exciting and impactful experience possible. Internally, you might know your company's cultural values and what makes your employees the best - but candidates don't know that by just visiting your website.
Hiring at scale made easier
Instead of trying to attract candidates once you have a role to fill or what we call 'late-funnel persuasion,' recruitment marketing ensure you're leaving impressions with candidates before there even is a job-seeking process. This pre-funnel engagement builds the recruitment pipeline to be stronger and faster, so you never have to settle for a less-than-amazing candidate again because you're desperate to fill the position.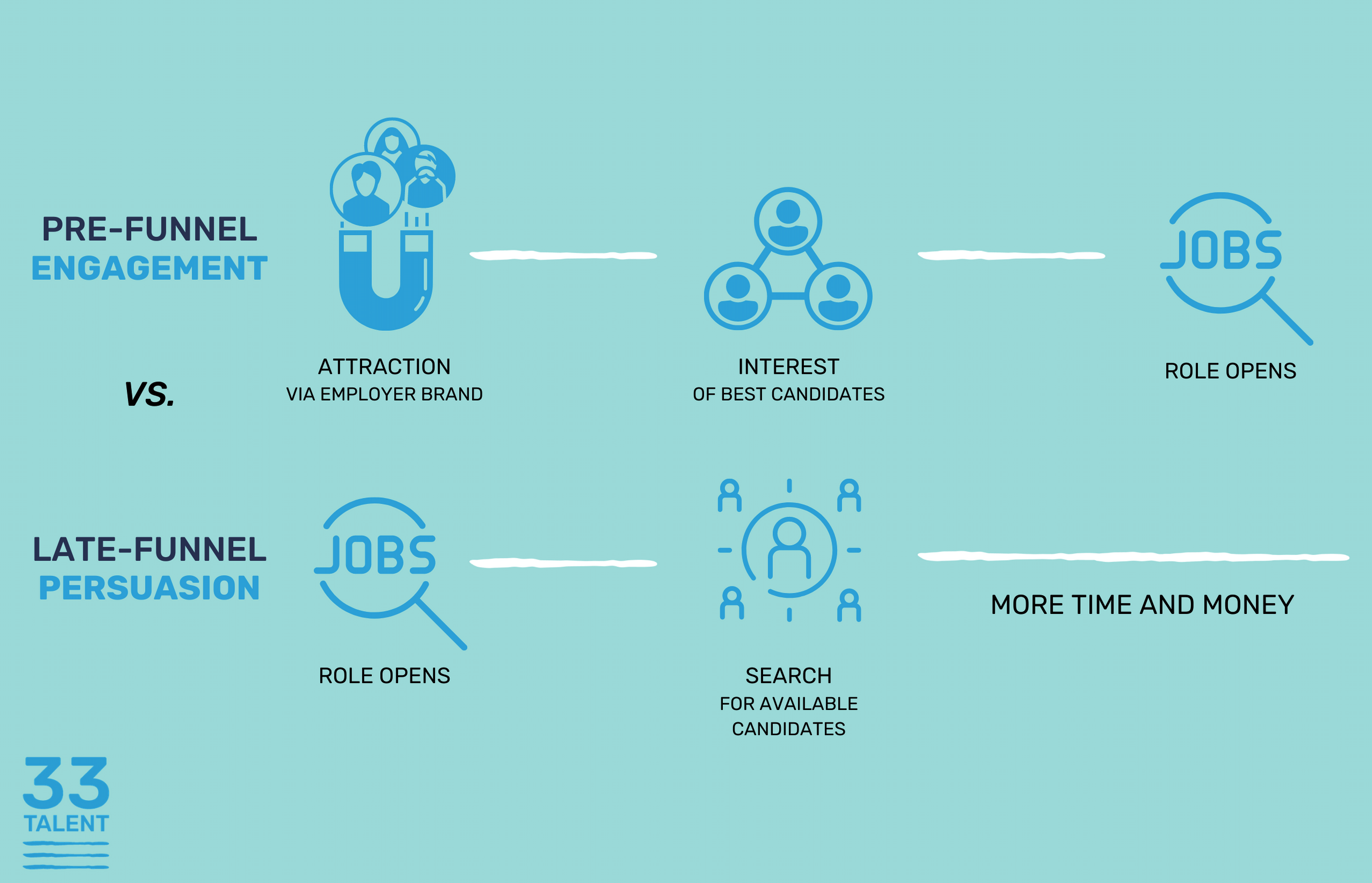 ​
Some questions we ask our clients before they go through large-scale hiring include:
What are your company values and mission?

What is your USP?

Have you spent time conceptualising a fun and high-performance culture?

Are your employees loyal, and outspoken brand ambassadors?

What do the team do for fun?

What are the benefits offered by your organisation?

What does your onboarding process look like? ​
Attracting talent to your organisation requires an employer brand that is consciously planned, actively cultivated and communicated within and outside the organisation.
The 33 Talent Solution
The goal of recruitment marketing is to facilitate bringing high-quality applicants to the business so that hiring becomes 'easy.' Our Subscription solution offers Recruitment Marketing under the pro and the full package, alongside our award-winning recruitment, HR Consulting, and Coaching services. We are a team of experienced recruiters, marketers, business owners, coaches, and consultants that work together to shape and market your employer brand with you. Think of it as hiring a marketing agency solely to help with talent attraction, for a fraction of the cost.
Learn more
about how we can help your company live and breathe talent through Subscription or
reach out directly to jo@33talent.com
about your employer branding needs.