Considering an organisational redesign? Here's what you need to know.
Co-founder at Tribus Agile and with over 22 years of experience leading HR transformations, change management, and organisational design and development, Desmond Williams sits down with 33 Talent to answer some burning questions on the industry and how companies need to approach redesign moving forward.
Kathryn: Thanks for joining us on Behind the People, Desmond. Where do you believe your industry is right now?
Desmond: Well, there's currently a very large interest in organisational design right now because everyone, regardless of the industry they're in, is grappling with the same questions. They might not all use the same terminology - 'audits, 'restructuring,' 'transformation,' or 'future-proofing,' but it all comes down to figuring out: Where do we go now? What systems must we put in place? And how do we actually do this? For us at Tribus Agile, we too have had to take an introspective approach in addition to advising our clients. We had to be agile, while also doing agile.
Kathryn: What are the challenges you've seen clients face in regards to OrgDesign?
Desmond: The first thing I remind clients who are considering redesign is to actually understand the difference between organisational design, organisational development and change management and how they work together. Many leaders approach organisational design as just looking at the company chart and moving different people in different places, but then they're forgetting how people are intricately integrated with the core business processes, technology, and systems.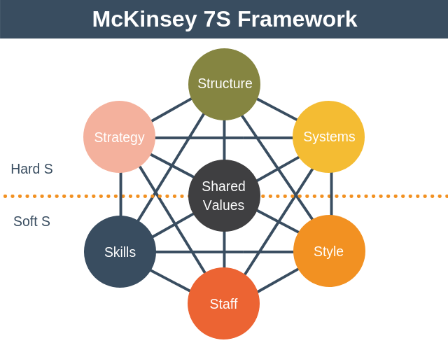 ​
The Mckinsey 7s model is useful to demonstrate this. Where there is the 'hard S's' - the systems, strategy, and structure - that has to do with design and the purpose and function of the business. The 'soft S's,' on the other hand, are the staff, skills, and (leadership) style which maintains that purpose and function and will be where development needs to occur to achieve greater effectiveness in the new design.
When clients come to understand the basics of organisational design and development, they recognise that the process should be just as much a 'bottom-up' approach as it is 'top-down.'
​
"The collaborative nature of organisational design means that if senior leaders dismiss the importance of middle management and below when they are strategising the redesign, the implementation of of those changes are likely to fail as it passes through the organisation"
Kathryn: So, where do companies start if they're considering a redesign?
Desmond: My top tip is to start with getting a consensus. You don't want to make changes until you have a good understanding of your organisation. To do that, you need to gather all your key stakeholders, particularly middle management, and also influencers in the organisation who might not have the 'prestigious' or senior title but holds some sort of sway with the rest of the company and shows to function close to the customer.
This 'large-group intervention' that takes place is exactly the kind of dialogue that is necessary to transform collective thinking processes and ultimately improve planning and involvement, all while increasing morale and a greater sense of connection within the organisation. Once they come up with a consensus of what the strategy may look like, then they can have breakout groups where the details of developmental initiatives can take place and what will need to be done to enable those strategies and take them to the next stage, whether that's workforce planning strategies, job analysis or redesign, or more.
"The dark truth of OD is that it sometimes involves having serious discussions about restructuring and redundancy, so enabling the right conditions for stakeholders to take ownership of the change effort will also assure it produces results that matter."
Tribus Agile provides virtual and in-person facilitated learning and advisory to help design and cultivate a modern agile organisation.
​
For more HR Insights like this, check out our
Behind the People series
with the top HR leaders in Singapore or watch the full video version of Desmond William's interview on Organisational Design
here
.