​At 33 Talent, we've created an award-winning recruitment product that offers clients substantial cost savings for an embedded model of Recruitment and end-to-end HR solutions. We deliver our expertise to some of the most innovative companies globally - here's how one startup started using Subscription to scale and optimise their talent strategy.
The Challenge:
Our Client is a small-to-medium-sized fintech startup that has just experienced enormous growth after an impressive Series A funding and rebranding. With a focus on emerging markets and current offices in Singapore, London, Dubai, and New York, they were looking for a dedicated talent partner that could support their global hiring growth whilst making sure the entire process was tight and consistent across the board. Before 33 Talent, the bulk of their recruitment responsibility fell into their lean HR team and senior management, but their growth trajectory meant that internal referrals could no longer supply the demand of talent, and hiring the right people as their company gained recognition was becoming an increasingly important factor to their success.
The Ask:
40 new hires, placed globally, varied across sales, business development, marketing, technology, legal & compliance, finance, human resources and office management

End to end process without the cost or hassle of hiring an extensive HR team
The Solution:
Subscription is not only a borderless, time, and cost-effective solution, but the flexibility of the product to create bespoke solutions for every business and budget was incredibly appealing to a growing startup like our client's. Their business model was just as agile and disruptive -- they knew they needed lots of new hires, but they also weren't always sure when, where, and how.
Like picking ingredients you'd want on your grain bowl, we started with agreeing on the key deliverables that would be set against the monthly fee. Regardless of the seniority of the hire, we offered a consistent price that would be broken down into 12 bite-sized chunks to mould seamlessly into their budget. Then we discussed strategy: starting with the vision and Employee Value Proposition of the brand, we forecasted what it would take to ensure a foolproof and integrated global hiring campaign.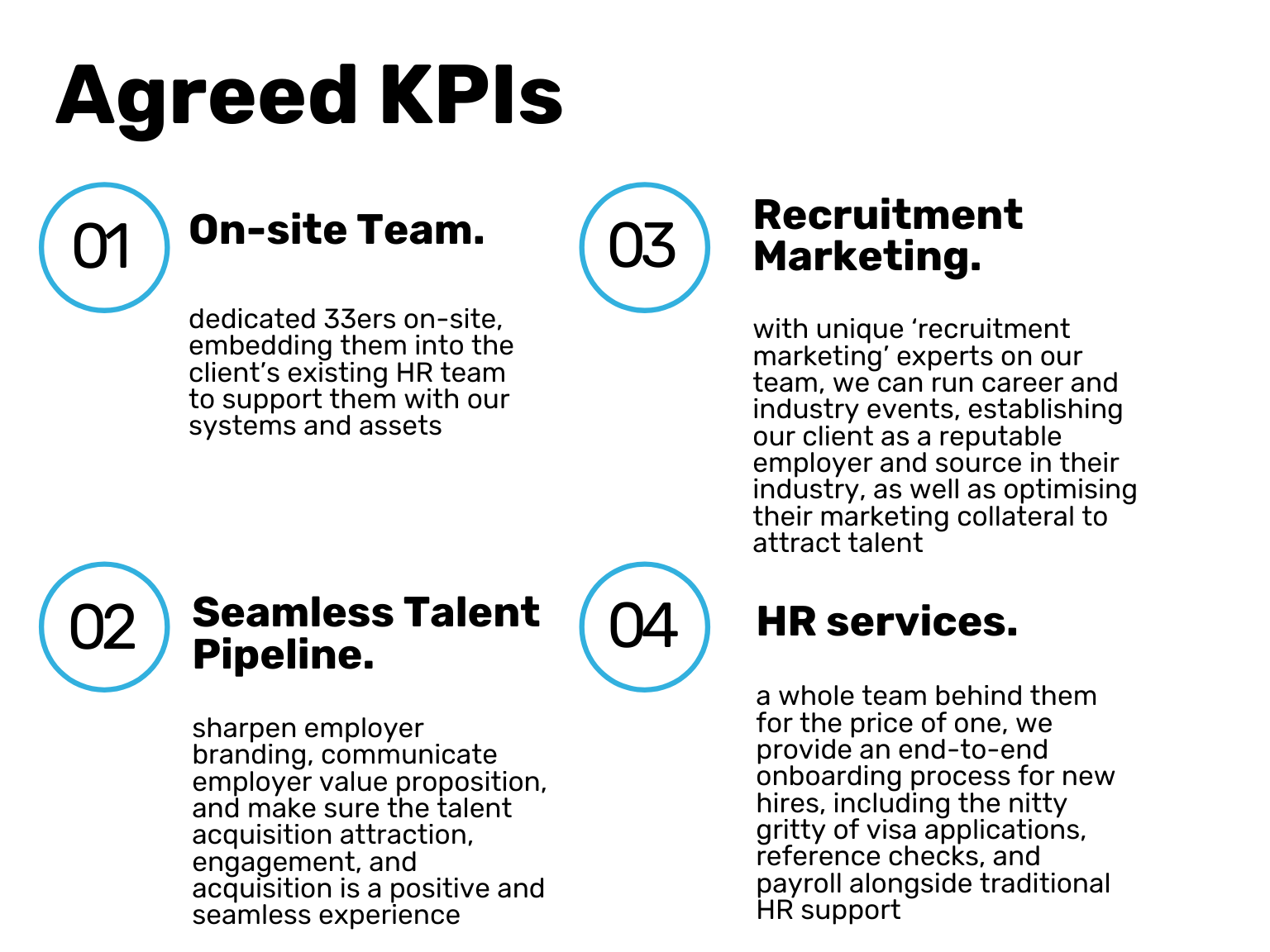 The Result: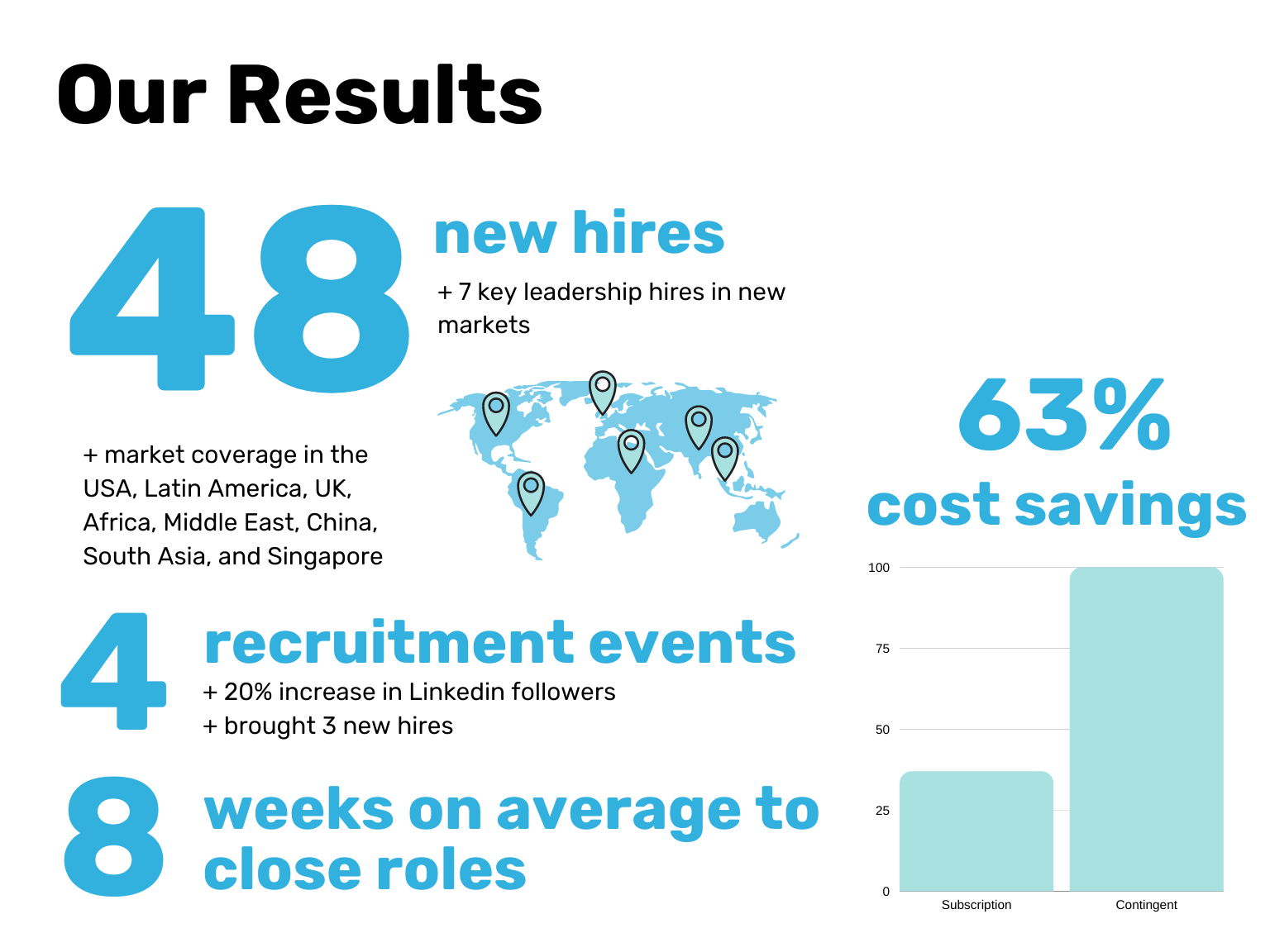 After the 12 month partnership, we're proud to say we achieved all and more of our client's hiring needs, whilst also strengthening their HR and Talent strategy.
Here's what the Director of Human Resources had to say about us:
"33 Talent's suite of

engaging, forward-thinking and flexible

services allowed us to focus on our priorities during our growth journey and lean HR resources, whilst remaining committed to our employee development and retention.

They delivered a series of training sessions packed with relevant content in a fun and engaging way. Designed to ignite mindset changes, this ultimately contributed to

better business performance

. Kathryn and her team are responsive, adaptable, and well-versed in the areas of talent management and development. We are pleased to partner with 33 Talent!
Our Subscription solution isn't a 'one and done' service, but an investment for a fully integrated and genuine partnership. With the success of their new hires and the 63% recruitment costs our solution helped them to save, it's safe to say our client agrees! As they continue to make waves in their industry, we remain as their dedicated talent partner.
​