​After 10 weeks of my remote internship at 33 Talent, I can safely say if this really is the future of Gen Z careers, sign me up.
Like many other international students this year, I found myself swept away from my university in London to the familiar walls of my childhood home in Singapore within a matter of days. COVID-19 had instantly changed the Big Plans for the summer, and I was desperately looking for a silver lining.
Come June 2020, when 33 Talent hired me as their new Marketing and Communications Intern, I was more than relieved to finally be able to put the home-workout videos and banana-bread making to rest. However, unlike many other virtual interns saturated on your LinkedIn newsfeed, I didn't have to make the most out of my experience because the internship didn't feel abnormal at all.
How did it feel normal?
As APAC's only certified Results Only Working Environment (ROWE) business, 33ers are no stranger to working from places other than the usual office (though they do love their WeWork). This 'wherever you like, whenever you like' policy wasn't just extraordinarily liberating for pluralists like me, but it made me feel connected with everyone from Day One. It felt natural to just text, call, or Slack someone when I needed their advice, while all the onboarding information I required was already well-organised into checklists and folders on our shared Google Drive. It's easy to keep track of your larger focus and goal when they've already been outlined and discussed with you from the start.
Because they've already had and been using these systems for years, whether I wanted to start in the evenings or be perched out on the beach with my laptop on a particularly sunny day, I could, and was encouraged to do so as long as I felt like I could still produce maximum results. They even have a term for it; "Sludging" yourself is a no-no, aka justifying why you started work later than usual or shaming another person for taking the day off and working on another.
If everyone is working remotely, how did you engage with the team?
They say you can't always tell when someone does a job just for the sake of it being their job, but you can definitely tell when someone loves what they do. Despite being amid a pandemic and our usual revenue-drivers on hold, no-one allowed themselves to be discouraged. The team was constantly thinking of new ideas to support one another and champion their mission and vision statements in a new reality. After just a few short weeks, I was looped into every initiative, breakout-room, and internal workshop, and was encouraged to bring my ideas onto the table and run with them into the team's 'innovation hothouse.'
It was also helpful that my first few days were organised with 30-minute informal Zoom calls with everyone on the team, regardless of their seniority or if our roles would intersect. These friendly, 'welcome' chats enabled me to genuinely get to know each 33er personally, as well as encourage future collaborations where we both felt excited to work together and produce some magical things (like our redesigned Candidate page and resources!).
The highlight of my time at 33 Talent would be how quickly I felt integrated with the rest of the family and how that translated into the work I was doing. Because I liked and felt respect by the team, I was motivated to crawl through 'broken glass' and deliver quality and excellence every step of the way (or learn how I could do better).
It's almost unbelievable how fast I felt like I knew everyone so well that when a month had passed, and we hosted our socially distanced EOFY party, I genuinely forgot I was meeting everyone for the first time face-to-face!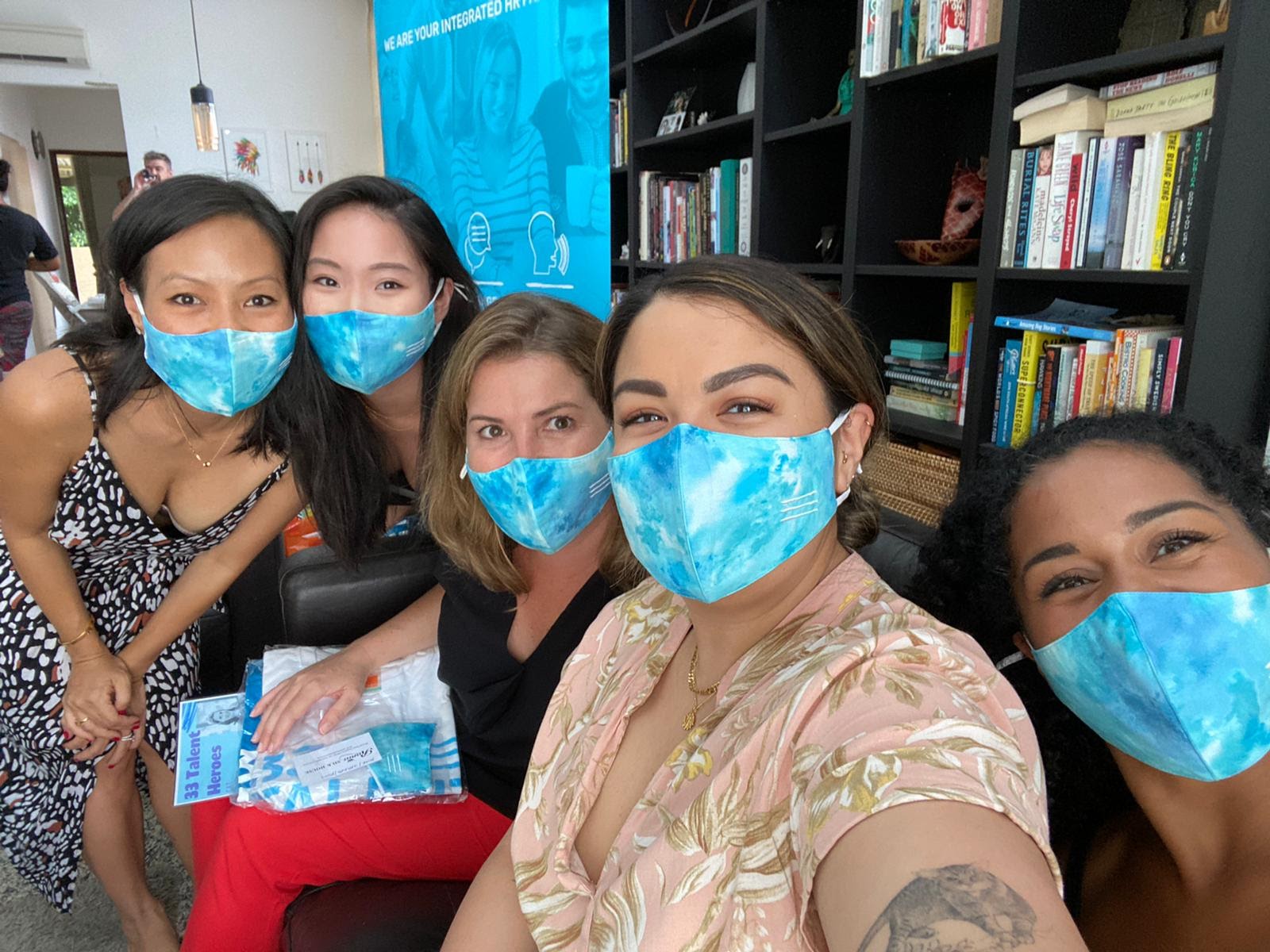 ​
So, what were your responsibilities as a Marketing/Comms Intern?
Because 33 Talent isn't just a recruitment agency, but an end-to-end HR and consultancy firm too, there was a lot for me to learn in the beginning to familiarise myself with their business model and the overall industry. The more I researched, the more I was amazed by the amount of insight and work being people people actually involved.
From creating new landing pages, SEO optimising, to redesigning and executing content campaigns and our overall strategy, there was never a day Gemma and Jo didn't have me hard at work. Although my title officially said Marketing/Comms Intern, I felt like each team member took the time to take me under their wing and include me in a new part of our business.
As an intern, it's sometimes easy to feel like your inexperience and juniority means you should stick with your on-the-paper responsibilities and otherwise, try to stay out of the way of everyone else and their 'real jobs.' It felt different here. I remember on one of my earlier calls with Kath, our Managing Director, I was surprised when she asked me directly in which areas of marketing, or even HR, I wanted to grow in and how 33 Talent could help with that. Despite knowing 33 was already swamped with tasks and ideas in which they hired me to help with, Kath was adamant that the internship should enable me to discover and learn in ways I would be interested, even if that meant adding another new project just for my sake.
One of my highlight projects was producing the Behind the People series for our socials. From conceptualising the brief and coming up with relevant questions to the nitty-gritty of post-production, I'm thrilled with the way it turned out and that I'm able to be a part of sharing thought leadership for such a critical industry in this climate. It was also encouraging to sit in through the Monthly Marketing Reports and see specific numbers improve because of changes I was making or content I was creating.
What are some key takeaways you've had about remote internships and 33 Talent?
On how to succeed in a remote internship:
If overwhelmed with a big list of tasks, it's sometimes better to prioritise rather than multitask. Assign levels of importance to each task, then create a list and allocate time based on the deadline, status and difficulty. Not all important tasks are urgent.

Don't be afraid to overcommunicate! One of my colleagues jokingly told me one of my skills she's appreciated most is that I can 'whip everyone to shape.' Remember that they hired you to help and make a difference, not just cower in the shadows and wait for instructions.

As impressive scoring a place in a large MNC or notable Summer/Insights scheme is, it's good to explore options within the small-to-medium sized companies in your field. Often, it is those 'unicorns' that will actively help you thrive and be invested in your growth. There won't be any aimless data-entry or (virtual) coffee filling and that experience is worth much more on your resume than a big name.
On 33 Talent:
Company culture is everything. They're proud to be 33ers. They celebrate every win on their Slack channel - personal or professional - everyone willingly takes the time out of their day to send a thoughtful message and shoutout the qualities of their team member that makes their feat possible.

Our clients are our best advocates. Not only do they come back for more and engage with our updates online, but they also recommend us to their friends and other colleagues because they trust us and our abilities. There is no better marketing than that.

We believe in paying-it-forward. They spend a lot of their time trying to truly understand the needs and worries of both their candidates and clients, not just to make a better product, but to be a committed partner. From free resources to ensure you're getting paid appropriately to planting a tree per placement, their reach goes beyond revenue.
Despite the pandemic being a constant background presence this year, my internship at 33 Talent has demonstrated that 2020 isn't just about COVID-19 or even the realities of transitioning into the 'new normal.' Rather, it's a testament to the power of intentionality and positive employee experience (even from an intern) and how, at the end of the day, that will translate to any work environment - virtual, remote, or not.
I'm also happy to announce that I've accepted the offer to become a permanent 33er in the Marketing/Comms as I return to London!