​Our business is to help other businesses succeed from the inside out. Sounds simple enough, right? That 'inside' I am referring to is people. People are at the centre of everything we do in business, a bit like being the bread to our butter. They just go together and you don't want one without the other.
As people managers, we see our role as being one that puts a big magnifying glass on our client's talent to show them that people are their greatest asset, not their biggest problem.
This starts in the hiring process and how you present yourself to potential new people entering the business. Candidates are looking to work in environments where their mental and physical health is built into the fabric of the business (not just a sign on a wall). Simply giving someone a gym membership is a bandaid solution and one that doesn't help bond your people to your organisation. You need to get to the real issues in order to fix them.
Sure, the bottom line is an important measure for companies, but the real results come from your people. Those people on the front line, being the first impression for your business and providing solutions to your client's. So where how do you empower your people to help you empower your business?
There is a lot of noise and conversation around this so let's get down to the core of it and outline the key findings.
Happy employees = Happy Customers
You've heard the saying that the 'customer is always right' and it is an age-old belief that is ringing more true today. However, the focus is moving to those serving to the customer than the customer themselves. Brands are now starting to see an intrinsic link between happy employees and happy customers as they are more likely to create a rewarding experience for customers of their products and services. We love that and encourage you to look at ways to create happier employees.
In fact, a recent Marketing Week article emphasised this point stating that "IHG believes that carefully constructing this culture - a place where people come to work excited and engaged in what they do, where they can grow and learn, and where they can be themselves - is how it maintains their competitive advantage".
Seems the proof is in the pudding!
Humility leadership improves culture
Companies going through change have to work extra hard to ensure their people stay engaged and productive, with internal communications playing a significant role in ensuring people remain aligned to the (new) purpose and promote behaviour from the top-down. So, if culture comes from the top, shouldn't managers be empowered to lead in a way that embeds the cultural change through the business processes and day to day operations?
A key takeaway from a recent panel discussion with key leaders including GIC and Prudential at Singapore International Chamber of Commerce's (SICC) Culture of Wellness event reiterated that putting people at the centre of organisational success is key.
The panellists, highlighted the critical role of "Humility Leadership" in creating an open, inclusive and engaged work culture.
They argued that with the right intention and the right execution, leaders of business help people to succeed beyond themselves and is key to loyalty, productivity and business success.
And we agree.
​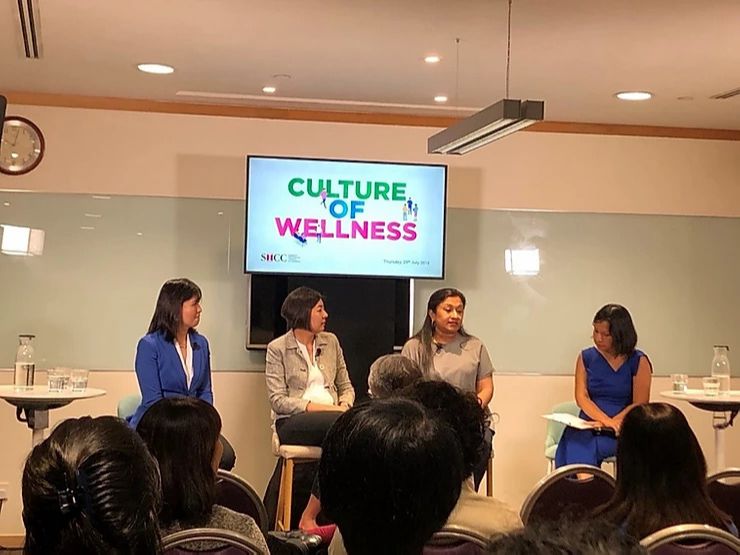 (Deanna Ong, Chief People Officer & MD, GIC; Narita Cheah, Co-Founder & Director, Paperspace; and Sheela Parakkal, Chief Human Resources Officer, Prudential Singapore. The discussions were moderated by Juliana Mattar, Founder & MD, motion the creative influence)
​
Diversity creates innovation
Recognising the role diversity and inclusion plays in business success is also becoming more relevant as our expectations evolve. At the PWC Herald Talks event in Auckland NZ, Ziena Jalil, former New Zealand Trade Commissioner to Singapore and consulting partner at SenateSHJ, stated that organisations that embrace diversity and inclusion outperform their peers in profitability and productivity.
She believes that diversity drives creativity, innovation and empathy, and those that embrace this also have greater employee appeal, which is critical during a skills shortage, an issue that is all too common in Singapore.
With all this in mind we work with companies to overcome the core challenge of not only finding talent, but keeping them, as we believe this will ultimately lead to growth.
If you are looking for assistance in how to turn your people into your greatest asset, not your biggest problem, you can sign up for a discovery workshop or book a time to chat to one of our experts here